Product: JM_THFFSPO150G_SET1
Fun Shrimp Peanut Original 150g
Detail
Fun Fragrant Shrimp Peanut Original Shrimp Peanut 150g Big Pack Incremental

Exclusive first!!! Made in Hong Kong, own factory, to fresh taste!!!
Original Shrimp Peanut is one of the must-eat signatures!!!
Produced by the 70-year-old brand "Fun Fragrant Shrimp Peanut 1949"~~~

One peanut, two flavors, shrimp and peanuts are exclusively created by Quxiang~~~
It originated from the idea of the founder Mr. Wu Songxi who wanted to combine shrimp chips with peanuts. The peanuts were dipped in their own special flour and then fried with a crispy skin to wrap the peanuts to create a double taste of crispy and crispy!!!

The old brand Quxiang Shrimp Peanut, which has been standing for nearly 70 years, is not afraid of the giant wheel of the times.
Food has been made by hand for many years.
Shrimp Peanut is the original snack of Fun Xiang Foods and is a famous souvenir in Macau and Hong Kong.

Shrimp Peanut is a nostalgic snack with crispy pulp on the outside and peanuts on the inside.
Shrimp peanuts should be something that everyone can easily miss. This ultra-traditional snack,
Due to the complexity of production and the changing tastes of the times, the snack of shrimp and peanuts is rarely eaten.

The local factory in Hong Kong is hand-made fresh every day. The crispy skin wraps the fresh peanuts, with multiple tastes, and it is more crispy and delicious.
Whether it is office food or house food, it is first-class to deliver wine and watch TV dramas!!!
Fun Xiang refuses to use Wannian oil, shrimp and peanuts have no preservatives, and the sodium content is lower than that of soda biscuits. It is a safe choice for snacks!!!
Freshly made in the local factory~~~ No preservatives, the crispy taste lasts longer~~~
Delivery
Deliver within 6 to 14 working day(s)
Purchase Exceed $400 EnjoyFree Shipping
Go Store
Expand All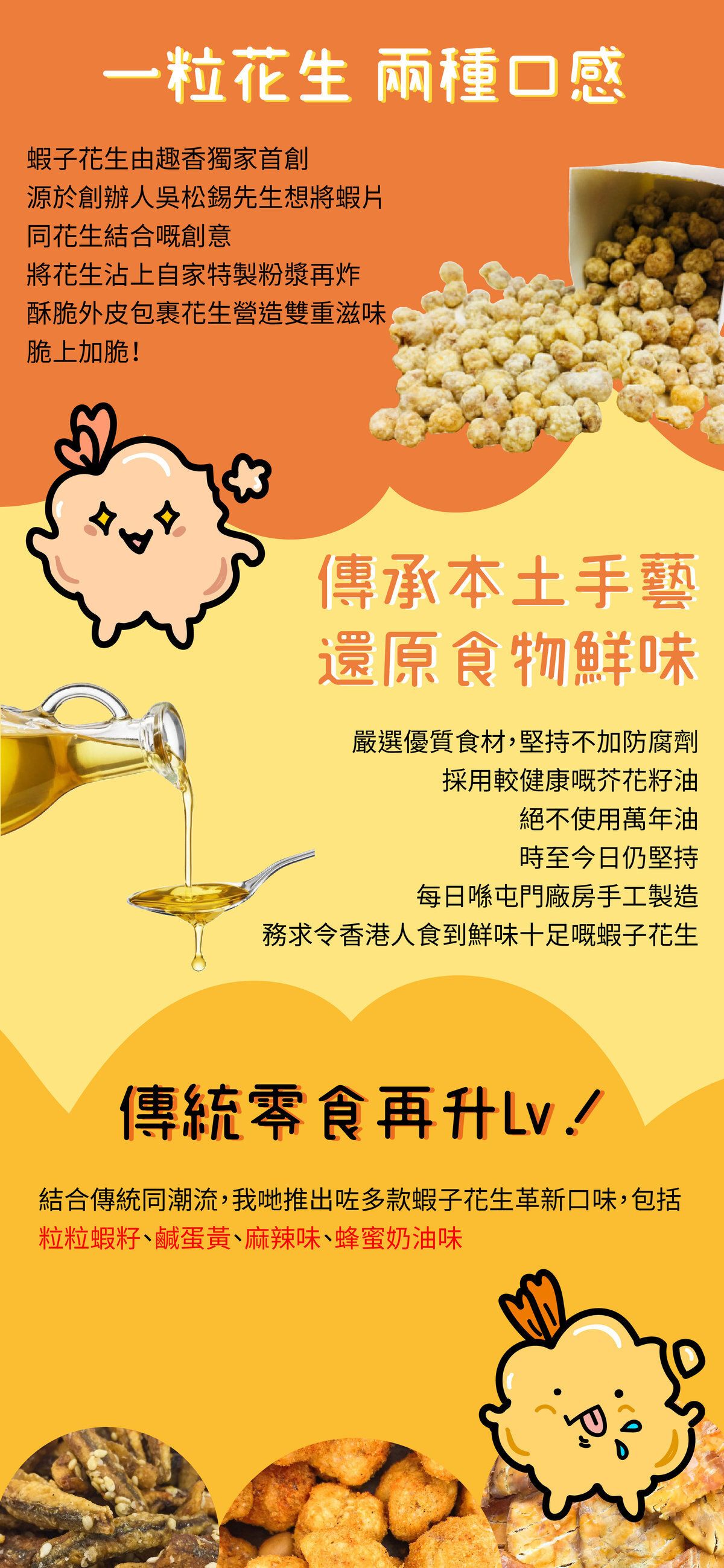 INGREDIENTS: Peanuts, Flour (Grain Containing Gluten), Corn Flour, Sugar, Vegetable Oil, Salt, Flavour Enhancer (E621)

Specifications: 150g large packs in increments Place of Origin: Hong Kong Preservation methods and instructions for use Please store in a cool and dry place, avoid direct sunlight
(Best storage refrigerator) Please eat as soon as possible after opening

It will appear during transportation and packaging, and it will be broken a little, but it will definitely not affect eating.
Please keep in a cool and dry place away from the sun.
After opening and eating, please seal the opening immediately to avoid moisture.
In order to maintain the fresh taste of peanuts, without preservatives, it is recommended to eat as soon as possible after opening.

Nutrition InformationPer 100gPer 100g
Energy energy 561kcal kcal
Protein protein 18.1g grams
Total fatTotal fat39.8g grams
-Saturated fat saturated fat 7.8g
-Trans fat 0g
-Total Carbohydrates Carbohydrates 32.7g grams
-Sugers sugar 1.8g
-Sodium Sodium 94.7mg mg

Best Before This Date (YYMMDD) is indicated on the packaging
Best Before Date (YYMMDD) As shown on the packing.
Delivery
Free local delivery service will be provided upon transaction amount of products of HK$400. For spending less than HKD$400, HKD$50 delivery fee will be charged.
We will arrange the shipment within 6-14 working days after the order is confirmed. (Unless marked seperately)
Please note that the delivery time will be affected by statutory holidays, natural disasters, traffic or the weather.
All order confirmations are subject to stock availability. In the event of the unavailability of the requested products, ESD Services Ltd. has the right to reject the order and notify customers by phone or email before delivery for rearrangements.
General terms
Items sold are non-refundable.
The products are supplied by J&M Company Limited
All of the products are provide FREE delivery (Additional shipping charge involved if delivery to Discovery Bay, Sheung Shui, Sai Kung, Yuen Long and outlying areas, please enquire at time of order.)
Exchange Policy
Customers are responsible to check the condition of goods received at the time of delivery. Once confirmed, no replacement is accepted.
Products shall be kept in the original package with good conditions for return or exchange. Products that has been worn, used, or altered will not be accepted for return or exchange.
If any other defective or missing item is found, customers are required to keep the original receipt and contact J&M Company Limited Customer Service Department via the below channels within 3 days from the date of delivery.
Email: cs@jnm.com.hk
Customer service hotline: 852 6657 1169