Product: SearchingC_wearbuds
Wearbuds 2-in-1 smart headphone watch
Detail
Use the smart watch to record the exercise status in real time during daily life, jogging, and cycling
Monitor daily health, but also be able to wear Bluetooth headphones to listen to music
Wearbuds Watch does not require an additional charging box for Bluetooth earphones, it is suitable for both IOS and Andriod, and one machine can meet your needs
Delivery
Deliver within 3 to 5 working day(s)
Purchase Exceed $499 EnjoyFree Shipping
Go Store
Expand All
購買Searching C產品總額滿HK$500,即可享香港一般地區免費送貨服務。賬單總額未滿HK$500需附加HK$30運費。<按此選購其他產品>
---
Wearbuds Watch is a revolutionary smart watch, equipped with high-quality earphones and advanced health and fitness recorder to make your life more convenient!
Aipower redesigns and creates a smartwatch that can store earphones and charge them quickly ~ Wearbuds enable you to slide earphones into your smartwatch to charge them, experience seamless wireless audio performance with Bluetooth 5.0 technology, 2.5 hours of continuous audio (one charge) , perfect stability and call clarity, take them out when you need them and enjoy high-quality audio to keep you motivated and help achieve your goals!
Wearbuds Watch earphones give you premium sound to make your workout fun. It provides a snug fit and has passive noise cancellation so you can focus on your music.
With touch, you can answer or make calls with just a tap on the headset, adjust volume, change tracks, play or pause, or invoke your phone's smart assistant (Siri, Google Assistant, Alexa, etc.).
Wearbuds Watch has a larger display screen and advanced health monitoring features such as blood oxygen sensor, more accurate heart rate monitor, blood pressure sensor, and even skin temperature, sleep monitor and sedentary alarm. Take care of your daily health data~
Wearbuds Watch can record your activities, such as step count, stair climbing and other sports modes, all the data are on your wrist. Whether you're running or doing any kind of exercise, the Wearbuds fit snugly without causing any discomfort to your ears.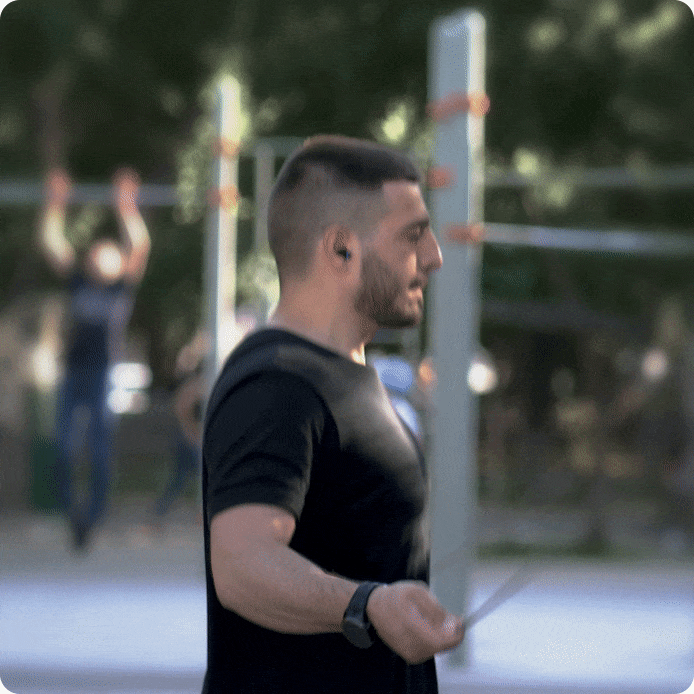 With IPX6 sweat and water resistance, Wearbuds watches are the perfect companion for gym workouts, morning runs, yoga meditations, and more, all without compromising your audio experience.
The Wearbuds APP is the ultimate tool you need to record, monitor and analyze every data so you can live and train better! You can also choose from six preset watch faces, or upload your own watch face through the Wearbuds APP, also suitable for IOS/Andriod.
1) Do I need an app to use my Wearbuds? What app do I need to use with the Wearbuds Watch to make it fully functional?
Wearbuds Watch comes with a dedicated app that you can download on the App Store and PlayStore. You will find the QR code for the app download on the packaging. You'll be able to sign up and use the app along with your Wearbuds to get the most out of your workout and tracking data.
2) How is it different from the previous version?
Wearbuds Watch is smaller and has a larger display. We've also improved the battery quality of smartwatches and earbuds, and equipped your Wearbuds with advanced health and fitness tracking features (blood oxygen sensor, blood pressure monitoring sensor, improved heart rate monitoring sensor).
3) Are the earbuds charging when I wear the Wearbuds?
Yes, you can put the earbuds inside the smartwatch to charge while the watch is in your hand.
4) Will I get notifications on my Wearbuds watch?
You'll also receive notifications on the Wearbuds Watch's display when paired with a smartphone (iOS or Android).
5) If I leave the earbuds somewhere, can I track them? Will I get alert notifications on my watch?
Wearbuds Watch Tracking Alerts are available for smartwatches and smartphones. So you won't be able to track down your lost earbuds. After removing the earbuds, you can put them in the smartwatch right away.
6) Can two earphones be used independently?
Yes, you can talk alone or listen to music.
7) Can it be used on IOS/Android system?
Can.
Delivery
Free local delivery service will be provided upon transaction amount of purchase Searching C product over HK$500. For spending less than HKD$500, HKD$30 delivery fee will be charged.
We will arrange the shipment within 3-5 working days after the order is confirmed.
Please note that the delivery time will be affected by statutory holidays, natural disasters, traffic or the weather.
All order confirmations are subject to stock availability. In the event of the unavailability of the requested products, health.ESDlife has the right to reject the order and notify customers by phone or email before delivery for rearrangements.
*Items sold are non-refundable.
*The products and pictures are supplied by SC Group Limited
*If in case of any dispute, SC Group Limited and health.ESDlife reserve the right of final decision.