Leave the first review for product
Product: SearchingC_hidri
American Hi Dri 4 in 1 Negative Ion Hair Dryer [Original Licensed]
Detail
Hi-Dri four-in-one hair dryer, you do not need to buy a hair dryer, hair straightener, curling comb and hair conditioner at the same time, one hair dryer can meet your different needs
There are 3 kinds of temperature and wind speed in the hair dryer, which allows you to deal with messy hair more elastically and blow out the ideal hairstyle in your mind
Unique brush head with built-in negative ion generator, dry hair faster and more effectively, and quickly smooth dry hair
Just turn on the power, you can use the hair dryer to comb the hair from the roots down
When combing to the end of the hair, it can be slightly curled inward. If you want the curly hair effect to last longer, you can also lengthen the blowing time.
Licensed Import
Warranty period: 12 month(s)
Delivery
Deliver within 3 to 5 working day(s)
Purchase Exceed $499 EnjoyFree Shipping
Go Store
Expand All
購買Searching C產品總額滿HK$500,即可享香港一般地區免費送貨服務。賬單總額未滿HK$500需附加HK$30運費。<按此選購其他產品>
---
American Hi-Dri 4-in-1 Hair Dryer
After shampooing, use a blow dryer to dry your hair while blowing out long straight hair.


Blow straight curly hair
Just turn on the power of the blower, use the blower to slowly curl the hair inwards slightly, you can quickly smooth the frizzy hair while drying the wet hair, and blow out the smooth hair,
It can also make your hair more beautiful~

quadruple enjoyment
With the four-in-one hair dryer, there is no need to buy a hair dryer, hair straightener, curling comb and hair conditioner at the same time. One hair dryer can meet your different needs and bring you top enjoyment~


Suitable for any hair type
The idea of this hair dryer design is to bring you a plentiful hair layer and enhance the brightness of your hair at the same time.
It is most suitable for everyone with thin and flat hair. It can make your thin hair thicker and save thinning hair.
Even if your natural hair is thin and sagging, it is difficult to get a beautiful look!


Effectively improve hair quality
The unique nylon bristles on the hair dryer and the small massage head can stimulate the scalp and at the same time allow you to instantly smooth the frizzy hair.
It is suitable for long-term dry and frizzy hair, so that the hair can regain its luster and make you more confident!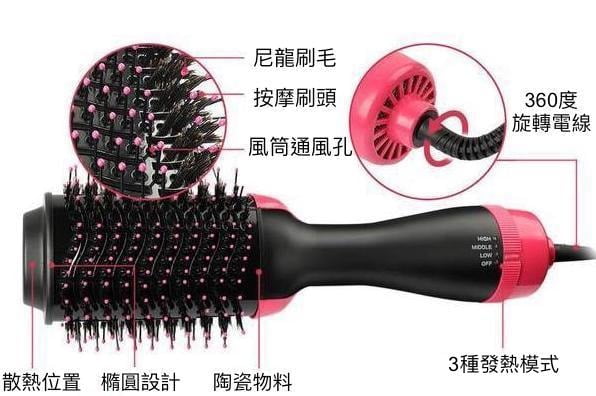 3 different modes

3 heating temperatures and wind speeds allow you to handle your hair more elastically.
If you have ordinary hair, you can choose to use low-to-medium-level hot air. Moderate temperature and wind speed are enough to treat your hair.
For those with dry and thick hair, it is recommended to use the advanced settings to help you blow out beautiful hairstyles in a higher temperature and higher speed mode.
With a handle that can be rotated 360 degrees, it can help you use the hair dryer more easily and blow out the ideal hairstyle.

Built-in negative ion generator
One of the special features of the hair dryer is that it has a built-in negative ion generator, which can dry the hair faster and reduce the damage of hot air to the hair.

Built-in negative ion generator
Many people think that the negative ion hair dryer is just to straighten the messy hair.
But in fact, when you turn on the power supply of the negative ion blower, negatively charged ion particles and water vapor particles will be generated in the blower.
Helps neutralize the positive charge that often develops on the surface of wet hair, so it smooths loose and messy hair.

Reducing Static Electricity Usually, when people blow their hair with ordinary hair dryers, the hot air generated will make the surface of the hair dry and generate static electricity, which will then cause the hair to curl up.
The negative ion hair dryer can dry hair faster and improve hair quality ~ as long as it is short, long, curly, wavy or straight, it can be used, suitable for all hairstyles and hair types.

Whether you go on a trip, go out at home, meet friends, go on a date, or attend an event, you can use it~
The product is not waterproof, keep away from the reach of children, do not use if there is any damage
Product Specifications
Material: Ceramic heating layer & top plastic Plug: British 3-pin plug
Power consumption: 1000W
Frequency: 50-60Hz
Delivery
Free local delivery service will be provided upon transaction amount of purchase Searching C product over HK$500. For spending less than HKD$500, HKD$30 delivery fee will be charged.
We will arrange the shipment within 3-5 working days after the order is confirmed.
Please note that the delivery time will be affected by statutory holidays, natural disasters, traffic or the weather.
All order confirmations are subject to stock availability. In the event of the unavailability of the requested products, health.ESDlife has the right to reject the order and notify customers by phone or email before delivery for rearrangements.
*Items sold are non-refundable.
*The products and pictures are supplied by SC Group Limited
*If in case of any dispute, SC Group Limited and health.ESDlife reserve the right of final decision.