Product: GloriousHK_HD9955
PHILIPS HD9870/20 Premium Healthy Air Fryer XXL (Breakfast Set HD9955) [Original Licensed]
Detail
Eating low-fat good taste, easy and easy.
Smarter, easier, and tastier. Smart sensing technology makes decisions and cooks for you.
This is the only healthy air fryer that automatically adjusts the time and temperature as it cooks, making it taste great for you. Choose and savor every bite!
Smart Sensing Technology
fat removal technology
High-speed air circulation technology
White/Champagne Gold, 1.4kg
Licensed Import
Warranty period: 24 month(s)
Delivery
Deliver within 2 to 3 working day(s)
Purchase Exceed $500 EnjoyFree Shipping
Go Store
Expand All
Free local delivery service will be provided upon transaction amount of products of HK$500. For spending less than HKD$500, HKD$30 delivery fee will be charged. Click HERE to see more GloriousHK products.
---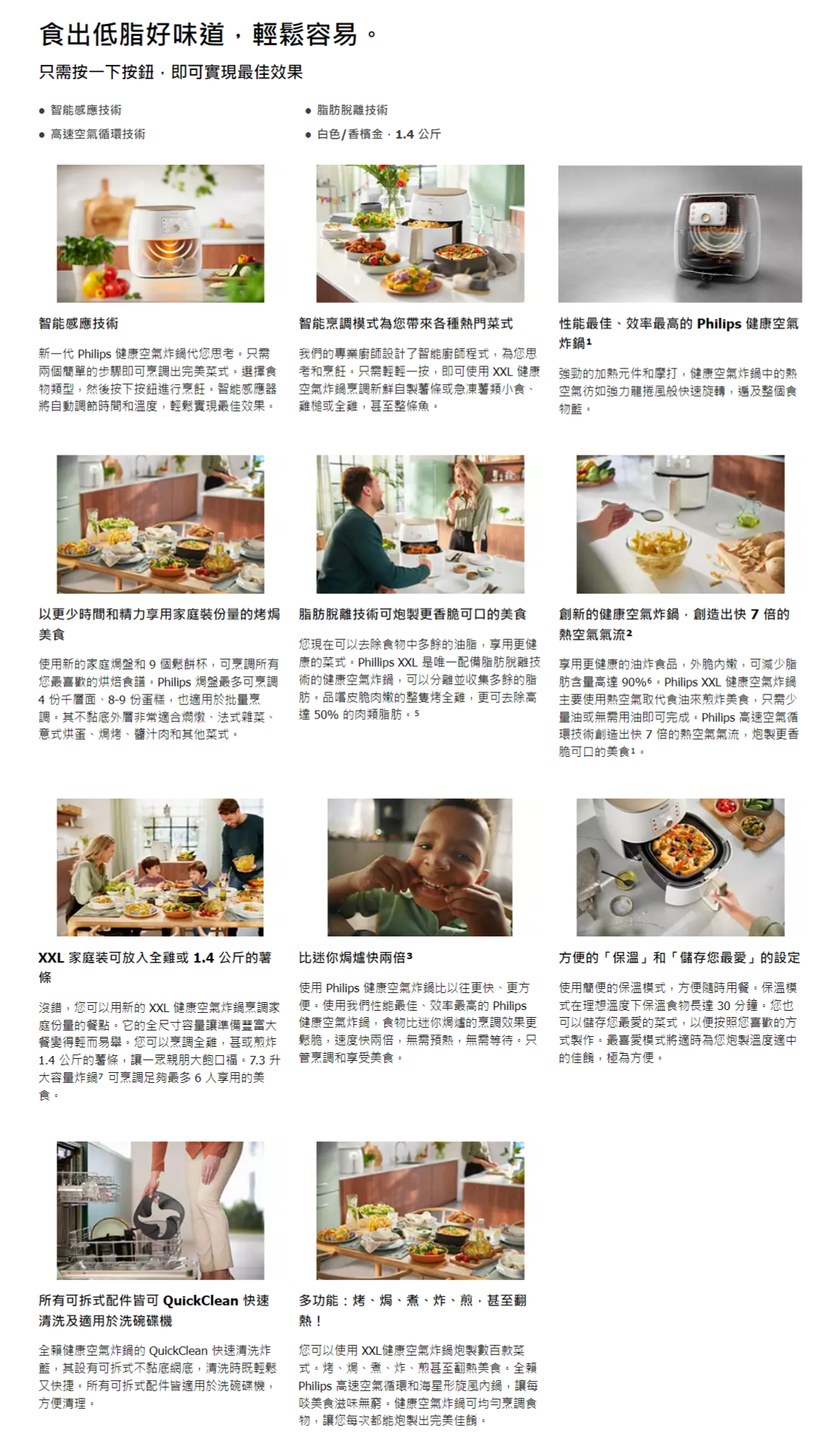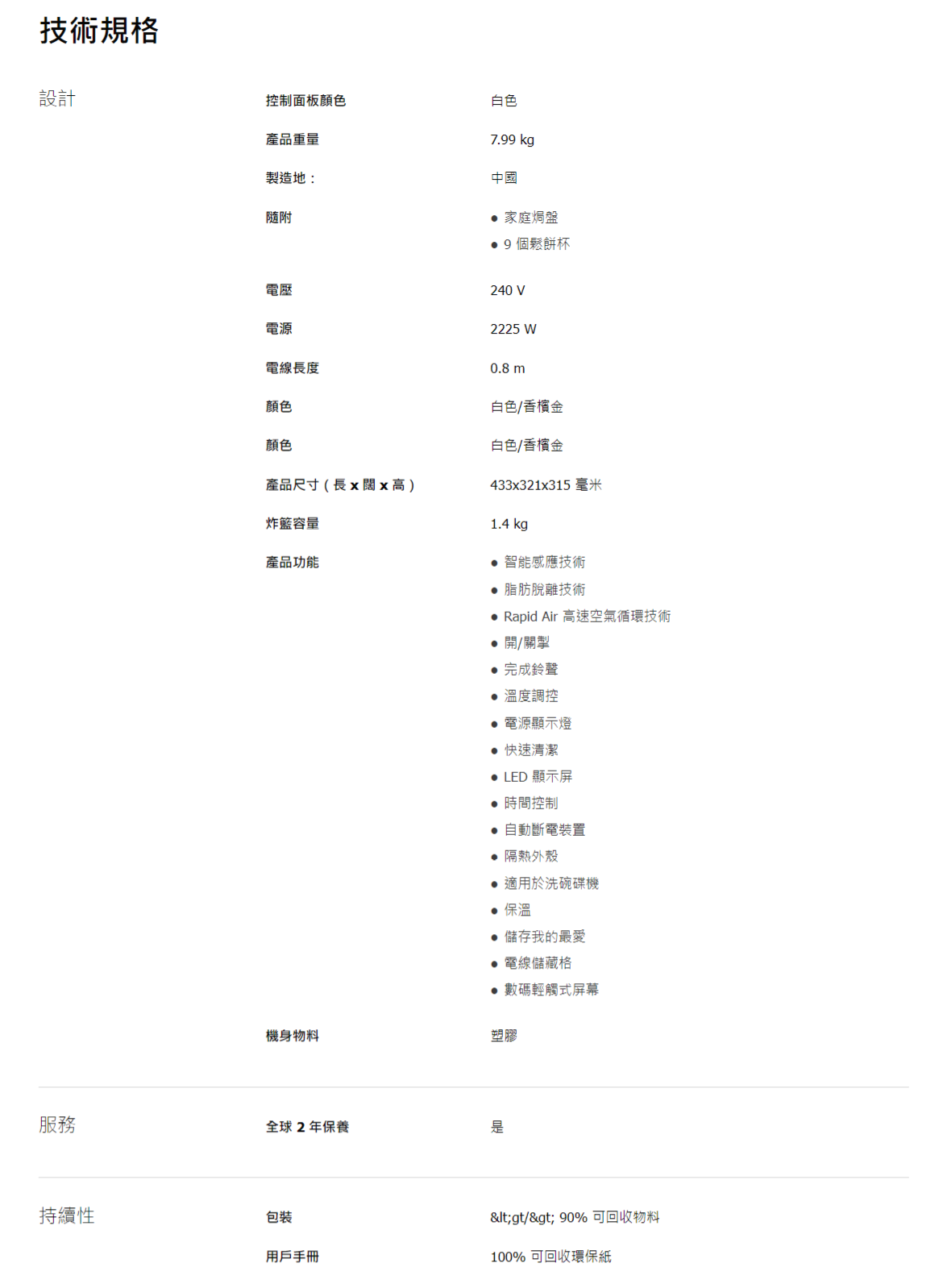 Smart Sensing Technology The next-generation Philips healthy air fryer thinks for you. Cook the perfect dish in just two easy steps. Select the food type and press the button to cook. The smart sensor will automatically adjust the time and temperature, making it easy to achieve the best results.

Smart Cooking Mode brings you a variety of popular dishes Our professional chefs have designed Smart Chef programs to think and cook for you. With just one touch, the XXL Healthy Air Fryer can cook fresh homemade fries or frozen chips, chicken mallet or whole chicken, or even whole fish.

The best performing and most efficient Philips healthy air fryer¹
With powerful heating elements and motors, the hot air in the Healthy Air Fryer spins like a powerful tornado, all over the food basket.

Enjoy home-sized gratins with less time and effort Cook all your favorite baking recipes with the new home gratin pan and 9 muffin cups. The Philips casserole cooks up to 4 lasagna, 8-9 cakes, and is also suitable for batch cooking. Its non-stick bottom is perfect for stews, bruschetta, bruschetta, gratins, meat in sauces and other dishes.

Fat Removal Technology for Crisp and Delicious Food You can now remove excess fat from your food and enjoy healthier dishes. The Phillips XXL is the only healthy air fryer with Fat Removal Technology that separates and collects excess fat. Taste a whole roasted chicken with crispy skin and tender meat, and remove up to 50% of meat fat. ⁵

Innovative healthy air fryer that creates 7 times faster airflow²
Enjoy healthier fried foods that are crispy on the outside and tender on the inside with up to 90% less fat⁶. The Philips XXL healthy air fryer mainly uses hot air instead of cooking oil to fry food, and it can be done with little or no oil. Philips high-speed air circulation technology creates 7 times faster hot air flow for crispier and more delicious meals¹.

The XXL family size fits a whole chicken or 1.4kg of chips That's right, you can cook family-sized meals with the new XXL Healthy Air Fryer. Its full-size capacity makes preparing rich meals a breeze. You can cook a whole chicken or even fry up to 1.4kg of fries to delight family and friends. The 7.3L Large Capacity Fryer⁷ cooks enough food for up to 6 people.

Twice as fast as a mini oven³
Using the Philips healthy air fryer is faster and more convenient than ever. With our highest performing and most efficient Philips healthy air fryer, food cooks crisper than a mini oven, twice as fast, without preheating, without waiting. Just cook and enjoy.

Convenient "Keep Warm" and "Save Your Favorites" settings make it easy to dine on the go with a convenient keep warm mode. Keep Warm mode keeps food warm at the ideal temperature for up to 30 minutes. You can also save your favorite dishes to make them the way you like. The Favorite mode will cook a delicious meal at the right temperature for you at the right time, which is extremely convenient.

All detachable accessories are QuickClean QuickClean and the Dishwasher Depends Healthy Air Fryer QuickClean Basket features a detachable non-stick mesh bottom for easy and quick cleaning. All detachable accessories are dishwasher-friendly for easy cleaning.

Versatile: bake, bake, boil, fry, fry, and even reheat!
You can cook hundreds of dishes with the XXL Healthy Air Fryer. Baked, baked, boiled, fried, pan-fried and even reheated. Thanks to the Philips high-speed air circulation and starfish-shaped cyclone inner pot, every meal is full of taste. The healthy air fryer cooks food evenly so you can cook the perfect meal every time.

Specifications Service Worldwide 2 Year Warranty Yes

General Specifications Control Panel Color White Product Weight
7.99kg
Place of manufacture:
Chinese Comes with Home Oven
9 muffin cups voltage
240V
power supply
2225W
wire length
0.8 m
Color White/Champagne Gold Color White/Champagne Gold Product Dimensions (L x W x H)
433x321x315 mm basket capacity
1.4kg
Product Features Intelligent Sensing Technology Fat Removal Technology
Rapid Air high-speed air circulation technology on/off switch completes the bell temperature control power display light fast cleaning
LED Display Time Control Automatic Power Off Device Heat Insulation Enclosure For Dishwasher Insulation Storage Favorites Wire Storage Compartment Digital Touch Screen Body Material Plastic

sustainable packaging
> 90% Recyclable Materials User Manual
100% recyclable eco-friendly paper

¹Healthy Air Fryer XXL has the highest wattage, fastest heat up time and more even frozen fries (2021).
²Compared to the air flow speed of the flat bottom Philips Viva healthy air fryer, Philips Rapid Air technology increases the air flow speed of the fryer by 7 times
³Tested on Philips and mini ovens (capacities over 10 liters) for uniform results and cooking times for frozen fries.
⁴ Recipe quantities vary by country ⁵ 3 raw chicken spleens cooked at 180°C for 24 minutes to remove fat ⁶ Compared to fresh French fries fried in a conventional Philips fryer ⁷ Liter capacity refers to the total capacity of the fryer ⁸ Only available in countries with NutriU communities
---
Philips - Healthy Air Fryer XXL Breakfast Set HD9955/00
With the chic Philips Healthy Air Fryer Breakfast Set, you can prepare a whole breakfast for your family in one go. Learn how to concoct a healthy breakfast of soft boiled eggs, toast, sausage and vegetables.
• Breakfast grill for toasts, eggs and more
• Silicone tipped food tongs for easy removal of ingredients
• Surprise your family with 4 silicone muffin cups
• Compatible with Philips XXL healthy air fryers: HD9630 HD9750 HD9650 - HD9656 HD9860 - HD9867 HD9870
General Terms:
Items sold are non-refundable.
The products are supplied by GloriousHK.
If in case of any dispute, GloriousHK and ESDlife. reserve the right of final decision.

Delivery Terms:
Free local delivery service will be provided upon transaction amount of products of HK$500. For spending less than HKD$500, HKD$30 delivery fee will be charged.
We will arrange the shipment within 2-3 working days after the order is confirmed.
Please note that the delivery time will be affected by statutory holidays, natural disasters, traffic or the weather.
All order confirmations are subject to stock availability. In the event of the unavailability of the requested products, ESD Services Ltd. has the right to reject the order and notify customers by phone or email before delivery for rearrangements.
Exchange Policy:
Customers are responsible to check the condition of goods received at the time of delivery. Once confirmed, no replacement is accepted.
Products shall be kept in the original package with good conditions for return or exchange. Products that has been worn, used, or altered will not be accepted for return or exchange.
If any other defective or missing item is found, customers are required to keep the original receipt and contact GloriousHK Customer Service Department via the below channels within 3 days from the date of delivery.
Email: info@glorioushk.hk