Leave the first review for product
Product: JohnsonGroup_SafePRO_MultiPurpose
SafePRO® Multi-purpose Nano Sprayer 380ml
Detail
380 mL transparent tank, easy to monitor remaining liquid level
Unique infrared human sensor design, will not triggered by objects with no heat
Strong 3 gear spraying output, adjustable spray intensity and flow rate
Light-weight, compact, easy to cover narrow spaces
Delivery
Deliver within 7 to 14 working day(s)
Purchase Exceed $500 EnjoyFree Shipping
Go Store
Expand All
Free shipping in Hong Kong and general areas (Hong Kong Island, Kowloon and the New Territories) for all Johnson Group GreenSTORE orders of amount above $500. Delivery fee* of HK$100 will be charged for order below $500 (Hong Kong Island, Kowloon and New Territories). Freight Collect* For freight charges received in other areas (Tung Chung, Outlying Islands, Ma Wan, Discovery Bay and Village Houses)* please refer to the purchase instructions. <Click here to shop other products>
---
---
SafePRO® Multi-purpose Nano Sprayer is a portable USB charging sprayer, with a spraying distance at around 1.5-2.5 meters, and an ultra small droplet size at 5~8 microns. Simply spray the disinfectant onto the surfaces, and it will disinfect and dry up by itself, no need to wipe.

With a 380mL transparent water tank and 3 levels of spraying intensity, it is very easy to operate.

The unit is equipped with a latest unique infrared human sensor, which is able to spray automatically when people pass by, so as to sanitizer their cloths and hands. The sensor uses heat sensing technology, which will not be triggered when objects are passing by, a clever touch to make it suitable for virtually all kinds of premises.
---
Product Features
380 mL transparent tank, easy to monitor remaining liquid level
Unique infrared human sensor design, will not triggered by objects with no heat
Strong 3 gear spraying output, adjustable spray intensity and flow rate
Light-weight, compact, easy to cover narrow spaces
Compatible with solutions such as disinfectant, mould remover, pesticide, deodorant, bird repellent, cleanser etc.
Suitable for household and commercial use, such as restaurants, schools, hospitals, gyms, elderly homes, pet clinics etc.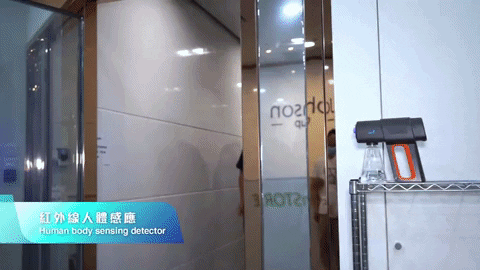 ---
Applications
---
Space Disinfection Precautions
All HVAC or air-conditioning, ventilation and any electronic appliances should be switched off before spraying
All the food and electronic appliances must be covered or stored
Opening drawers and cabinets are recommended, but not a must
Once finished spraying, wait for at least 1.5 hours before re-entering the site
DO NOT use any corrosive chemical solution, alcohol disinfectant or diluted bleach
Please make sure the human and pets have all left before starting disinfection
---
Product Specifications
Dimensions: (L)237*(W)87.5*(H)214mm
Spray Distance: 1.5~2.5 meters
Battery Capacity: 2200mA
Voltage: DC12V
Charge Time: Approx. 4~5 hours
Operations Time: 60~70 mins (continuous)
Average Droplet Size: 8~20micron (adjustable nozzle)
Capacity: 380mL (continuous spraying for 15-20 minutes)
Power: 25W
Weight: Approx. 950g
---
Charging Instructions
DC5V charging takes around 4-5 hours to charge the product fully
All LED will be on when charging, the LEDs stop blinking once charging done
---
Operating Instructions
Pour the liquid into the water tank, switch it to ON position
Short press M to enter 'low' gear, switch to 'mid' gear or 'high' gear, or stop spraying
Short press M twice to turn the blue light on or off
Long press M to turn the infrared sensor on or off, the red light will indicate whether it is in human sensor mode or manual mode
Turn the nozzle clockwise to increase spray thickness, turn it anti-clockwise to decrease
---
14-day Replacement Guarantee
The fogging machine/sprayer sold by GreenSTORE come with a 14-day replacement guarantee for damaged products. The products that require replacement must be kept in complete packaging without any damage or scratches. Only the same model can be replaced.
**Any damage caused by man-made error, abnormal usage against instructions in the manual, wrong power supply or negligent use of the product, the company reserves the right to the final decision.
If products need to be returned, please contact us first to make an appointment, and bring the products with the receipts to our office at TML Tower Tsuen Wan.
General Terms:
Items sold are non-refundable.
The products are supplied by Johnson Group GreenSTORE
If in case of any dispute, Johnson Group GreenSTORE and ESDlife. reserve the right of final decision.
Service Terms:
Extra $500 will be charged for services at remote locations including Tung Chung, Outlying Islands, Ma Wan, Discovery Bay and Village Houses.
For purchasing "Johnson Group" services, our customer service team will contact you for detailed schedule within 2 working days after receiving your order.
Please note that the service could be reschedule/canceled due to force majeure such as Typhoon Signal No.8 or Black Rainstorm Signal

Delivery Terms:
The below regions can enjoy a free delivery service for purchase over a certain amount in Johnson Group GreenSTORE*#

Hong Kong Island, Kowloon, New Territories: HK$500 or above
Tung Chung: HK$1,000 or above
Outlying Islands, Ma Wan, Discovery Bay and villages: HK$2,000 or above

*Extra delivery charge for purchase below specified (price after discount) will be applied as following:

Hong Kong Island, Kowloon, New Territories: HK$100
Tung Chung: HK$200
Outlying Islands, Ma Wan, Discovery Bay and villages: HK$500

#To ensure clients can receive the goods at the earliest, third party delivery services (freight collect only), e.g S.F. Express.

We will arrange the shipment within 7 to 14 working days after the order is confirmed.
Please note that the delivery time will be affected by statutory holidays, natural disasters, traffic or the weather.
All order confirmations are subject to stock availability. In the event of the unavailability of the requested products, ESD Services Ltd. has the right to reject the order and notify customers by phone or email before delivery for rearrangements.
Exchange Policy:
Customers are responsible to check the condition of goods received at the time of delivery. Once confirmed, no replacement is accepted.
Products shall be kept in the original package with good conditions for return or exchange. Products that has been worn, used, or altered will not be accepted for return or exchange.
If any other defective or missing item is found, customers are required to keep the original receipt and contact Johnson Group GreenSTORE Customer Service Department via the below channels within 3 days from the date of delivery.
Email: enquiry@johnson-group.com.hk
Customer service hotline: 2481 3988