Leave the first review for product
Product: JohnsonGroup_SmellGREEN_Spray
SmellGREEN® Natural Disinfectant Spray
Detail
Kills 99.99% of bacteria & viruses
Botanical ingredients
100% biodegradable (OECD 301E Standard, degrade within 14 days)
Non-toxic, Non-corrosive on surfaces (pH8)
Safe for kids, pets and the environment
Delivery
Deliver within 7 to 14 working day(s)
Purchase Exceed $500 EnjoyFree Shipping
Go Store
Expand All
Free shipping in Hong Kong and general areas (Hong Kong Island, Kowloon and the New Territories) for all Johnson Group GreenSTORE orders of amount above $500. Delivery fee* of HK$100 will be charged for order below $500 (Hong Kong Island, Kowloon and New Territories). Freight Collect* For freight charges received in other areas (Tung Chung, Outlying Islands, Ma Wan, Discovery Bay and Village Houses)* please refer to the purchase instructions. <Click here to shop other products>
---

US EPA (List N): Disinfectant for Use Against SARS-CoV-2
SmellGREEN® Natural Disinfectant is qualified for the Emerging Viral Pathogens Claim and meets EPA's criteria for use against SARS-CoV-2 and the new stains of the virus*.
*Message extracted from United States Environmental Protection Agency List N updated on July 2021
---
New-look For SmellGREEN® Natural Disinfectant!
Please be aware the new packaging design for the SmellGREEN® Natural Disinfectant has been launched. However, as there are still stocks of the old packaging, customers might still receive the old packaging recently. Please be assured that the ingredient and composition will be the same for both designs.
---
Applications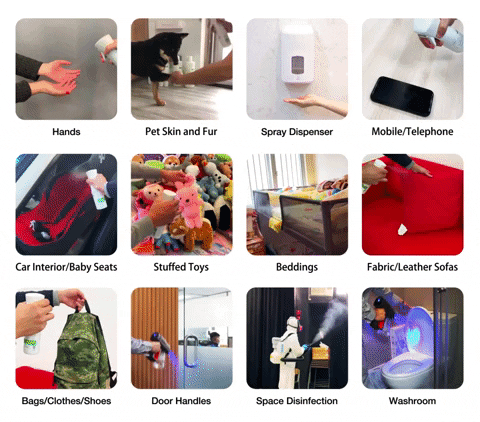 ---
Hospital Grade Disinfectant
SmellGREEN® Natural Disinfectant is a broad spectrum, bactericidal, tuberculocidal, fungicidal and virucidal disinfectant made from a proprietary formulation of plant extracts. Suitable for hands and surfaces disinfection, or use with ULV fogger for space disinfection.
---
All-natural Disinfectant Cleaner & Hand Sanitizer
SmellGREEN® Natural Disinfectant is a plant-based disinfectant & cleaner made from plant extracts and essential oils.
Eliminate mould on walls, ceilings and hard surfaces
Clean and disinfect surfaces such as furniture, counters, trash bins, telephone, door handles, washroom, kitchen, accessories of pets, toys, etc
Space disinfection to kill bacteria and viruses
As a hand sanitizer to clean and disinfect hands (Can be used with Infra-Red Sensor Automatic Spray Dispenser)
---

A Green & Safe Disinfectant
Kills 99.99% of bacteria & viruses
Botanical ingredients
100% biodegradable (OECD 301E Standard, degrade within 14 days)
Non-toxic, Non-corrosive on surfaces (pH8)
Safe for kids, pets and the environment
Does not stain surfaces or skin
Satisfies stringent food security requirements
HK Standards and Testing Centre certified, 99.99% anti-bacterial efficacy
Registered at the US EPA and Health Canada
Product from Canada
---
How to Use SmellGREEN® Natural Disinfectant
The multi-purpose of SmellGREEN® Natural Disinfectant is the perfect solution for any cleaning, disinfecting and sanitizing needs. For cleaning purposes, simply spray on the soiled surface and wipe it clean. As far as disinfecting purpose is concerned, spray thoroughly on the infected surface until it is completely wet. After that, you can let it dry or wipe it clean.
No rinsing necessary for a non-food surface. For food surfaces, rinsing with drinking water is required. SmellGREEN® can be used on a wide variety of surfaces such as doors, door handles, counters, kitchens, baby furniture and so much more.
---
Safe to Use
All natural, plant-based ingredients are non-irritating on skin & eye, non-toxic, non-carcinogenic and biodegradable; no ammonias, chlorines or gluteraldehyde.
---

Disinfecting & Cleaning 2-in-1
2 in 1 solution offers proven disinfection with high cleaning performance cleaning; kill bacteria & viruses and remove biofilm layer.


Viruses (1min):
H1N1/ Coronavirus/ Rotavirus
Bacteria (2mins):
Staphylococcus Aureus/ Streptococcus Suis/ Salmonella Choleraesuis/
Pseudomonas Aeruginosa/ Listeria Monocytogenes/ NDM-1/ Escherichia Coli/ Mycobacterium Terrae (3 Minutes)/ Escherichia Coli O157:H7
Fungi (3mins):
Candida Albicans
---
Certificate/Registration
US EPA (EPA Reg. No.87742-1) and Health Canada (DIN 02390035) HKSTC, UL EcoLogo (UL 2794) and NSF
---
Active Ingredient
Thymol 0.23% (EPA Reg. No.87742-1)

---
Product Applications Disclaimer
- The disinfectant can only be applied on skin and object surfaces for killing bacteria and viruses
- The disinfectant is not a kind of medicine, which cannot be taken orally
- The disinfectant does not have the curing function against bacteria, viruses or any disease in human body
General Terms:
Items sold are non-refundable.
The products are supplied by Johnson Group GreenSTORE
If in case of any dispute, Johnson Group GreenSTORE and ESDlife. reserve the right of final decision.
Service Terms:
Extra $500 will be charged for services at remote locations including Tung Chung, Outlying Islands, Ma Wan, Discovery Bay and Village Houses.
For purchasing "Johnson Group" services, our customer service team will contact you for detailed schedule within 2 working days after receiving your order.
Please note that the service could be reschedule/canceled due to force majeure such as Typhoon Signal No.8 or Black Rainstorm Signal

Delivery Terms:
The below regions can enjoy a free delivery service for purchase over a certain amount in Johnson Group GreenSTORE*#

Hong Kong Island, Kowloon, New Territories: HK$500 or above
Tung Chung: HK$1,000 or above
Outlying Islands, Ma Wan, Discovery Bay and villages: HK$2,000 or above

*Extra delivery charge for purchase below specified (price after discount) will be applied as following:

Hong Kong Island, Kowloon, New Territories: HK$100
Tung Chung: HK$200
Outlying Islands, Ma Wan, Discovery Bay and villages: HK$500

#To ensure clients can receive the goods at the earliest, third party delivery services (freight collect only), e.g S.F. Express.

We will arrange the shipment within 7 to 14 working days after the order is confirmed.
Please note that the delivery time will be affected by statutory holidays, natural disasters, traffic or the weather.
All order confirmations are subject to stock availability. In the event of the unavailability of the requested products, ESD Services Ltd. has the right to reject the order and notify customers by phone or email before delivery for rearrangements.
Exchange Policy:
Customers are responsible to check the condition of goods received at the time of delivery. Once confirmed, no replacement is accepted.
Products shall be kept in the original package with good conditions for return or exchange. Products that has been worn, used, or altered will not be accepted for return or exchange.
If any other defective or missing item is found, customers are required to keep the original receipt and contact Johnson Group GreenSTORE Customer Service Department via the below channels within 3 days from the date of delivery.
Email: enquiry@johnson-group.com.hk
Customer service hotline: 2481 3988