Product: JM_SGCBRR140G_SET1
Corner Buddy Cheese Brown Rice Roll 140g Package [Parallel Import]
Detail
The cute corner creatures are here again~~~ This time they are transformed into brown rice rolls!!!
Use high-quality brown rice to puff up to make rice rolls, and then inject cheese-flavored filling corners into the cake to accompany you to spend the afternoon tea happy time together!!!

The super popular Japanese cartoon character Sumikkogurashi corner friends, these small animals can feel at ease and at ease only when they stay in the corner,
The cute appearance huddled in the corner has captured a large group of loyal followers. This year, the corner partner snack food authorized brand - Jingtian Confectionery,
It is even more intimate, and it will definitely benefit the fans!!!
Turn a series of corner friends into snacks to snipe your heart, come and find out!!!
Delivery
Deliver within 6 to 14 working day(s)
Purchase Exceed $400 EnjoyFree Shipping
Go Store
Expand All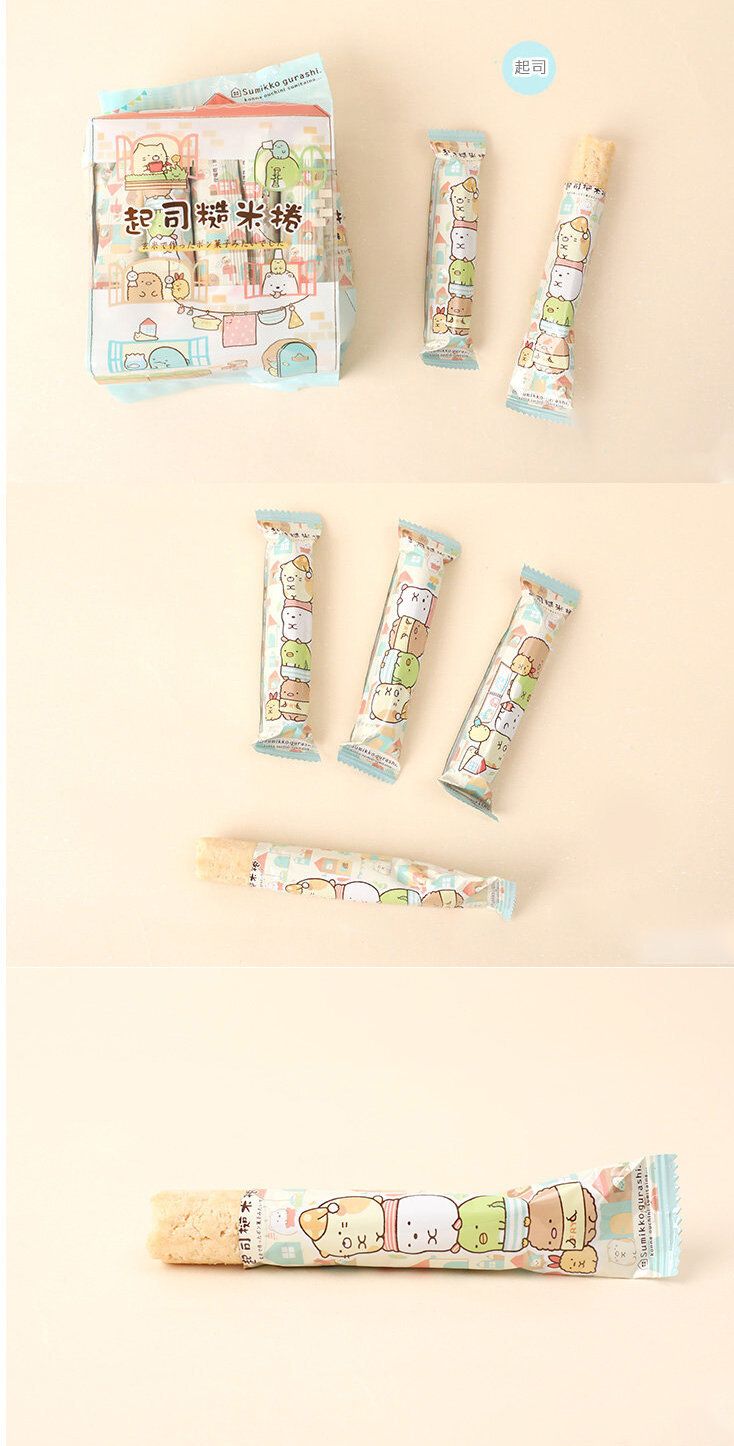 Specifications: 140g Packing ingredients: Rice flour (brown rice, white rice, secondary soft palm (palm oil), maltodextrin, corn, sugar, cheese powder containing milk solids,
Cheese solids milk, salt, starter (Streptococcus thermophilus ~ Lactococcus lactis subsp. milkfat), rennet,
Salt, flavor enhancer sodium gallate, citric acid), coloring (B-carotene), yeast extract flavor, milk powder,
Inactive yeast powder, anticaking agent (silicon dioxide) salt, spices, konjac powder

Preservation method and instructions for use: Please store in a cool and dry place, avoid direct sunlight
(Best Storage Refrigerator)
Please eat as soon as possible after opening. Origin: Taiwan

This product contains milk and its products. This line also produces biscuits containing gluten-containing grains, soybeans, eggs, mangoes, nuts, sesame seeds

Ingredients: Rice flour (brown rice, rice), secondary refined palmolein
(palm oil), maltodextrin, corn, sugar, cheese powder [contains milk solids,
cheese solids (milk, salt, start culture (streptococcus thermophilus,
lactobacillus helveticus, lactococcus Lactis subsp. cremoris.), enzymes),
salt, flavour enhancer (monosodium L-glutamate, citric acid), colour
( ß-carotene), yeast extract, flavor], milk powder, inactive yeast powder,
anti-caking agent (silicon dioxide), salt, flavor, konjac powder

Contains: MILK. Manufacture on equipment that also processes biscuits that contain wheat,
soybean, egg, mango, nuts and sesame.

Nutrition InformationPer 100gPer 100g
Energy energy 593kcal kcal
Protein protein 3g
Total fatTotal fat41g grams
-Saturated fat 19g
-Trans fat 0g
-Total Carbohydrates Carbohydrates 53g grams
-Sugers sugar 8g
-Sodium Sodium 280mg mg

Best Before This Date (YYMMDD) is indicated on the packaging
Best Before Date (YYMMDD) As shown on the packing.
Delivery
Free local delivery service will be provided upon transaction amount of products of HK$400. For spending less than HKD$400, HKD$50 delivery fee will be charged.
We will arrange the shipment within 6-14 working days after the order is confirmed. (Unless marked seperately)
Please note that the delivery time will be affected by statutory holidays, natural disasters, traffic or the weather.
All order confirmations are subject to stock availability. In the event of the unavailability of the requested products, ESD Services Ltd. has the right to reject the order and notify customers by phone or email before delivery for rearrangements.
General terms
Items sold are non-refundable.
The products are supplied by J&M Company Limited
All of the products are provide FREE delivery (Additional shipping charge involved if delivery to Discovery Bay, Sheung Shui, Sai Kung, Yuen Long and outlying areas, please enquire at time of order.)
Exchange Policy
Customers are responsible to check the condition of goods received at the time of delivery. Once confirmed, no replacement is accepted.
Products shall be kept in the original package with good conditions for return or exchange. Products that has been worn, used, or altered will not be accepted for return or exchange.
If any other defective or missing item is found, customers are required to keep the original receipt and contact J&M Company Limited Customer Service Department via the below channels within 3 days from the date of delivery.
Email: cs@jnm.com.hk
Customer service hotline: 852 6657 1169